The Greensboro Chinese Christian Church
<![if !supportEmptyParas]><![endif]>
A Brief Church History
<![if !supportEmptyParas]><![endif]>
<![if !vml]>

<![endif]>The formal meeting of Chinese Christians in the Greater Greensboro area (also known as the Triad area) of North Carolina began as a monthly Bible study group in 1970. The meetings were generally held at the Westover Presbyterian Church in Greensboro. Although the group met quite regularly, as a result of the mobility of the group members and the low density of Chinese in the Triad area back in those years, the condition for forming a church did not become mature until seventeen years later.
<![if !supportEmptyParas]><![endif]>
The first worship service of the Greensboro Chinese Christian Church (GCCC) on April 24, 1988 was made possible through many people's prayer and with the help of Dr. James L. Jarrard at the Immanuel Baptist Church (IBC). The church was incorporated in March 1996 and we are fortunate to have the use of the IBC facilities and the support of its members. To this day, we still hold our meetings and worship there, and our children attend IBC's Children's Sunday school programs. Currently, the GCCC Building Committee is actively working on a new site for our worship and fellowship.
<![if !supportEmptyParas]><![endif]>
GCCC's membership grew gradually ever since its first worship service in 1988 with the voluntary and part-time help from Rev. John Tsai. It currently has approximately regular 70 members; most members are in the age range of 30's to 50's. Furthermore, we have substantial number children and college students in our congregation. Many of our members are in various professions/businesses and have young families.
<![if !supportEmptyParas]><![endif]>
The organizational structure is composed of the pastor, deacon board and the board of directors. Our regular meetings include Sunday worship, Sunday school, Wednesday prayer meeting, monthly family fellowships meetings and Friday night Bible study. The Friday night Bible study is further divided into several groups according to topic.
<![if !supportEmptyParas]><![endif]>
<![if !vml]>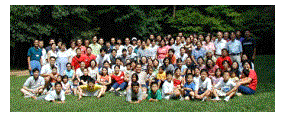 <![endif]>While most members have been Christians for many years, there also many very active individuals who are young in the faith. Amongst us are also several non-Christians who have been coming consistently or with their believing spouses.
<![if !supportEmptyParas]><![endif]>
Overall, the Triad area has a small but gradually increasing Chinese population, mainly young professionals. The outreach to students, scholars, and professionals that have recently come from mainland China represents a particular challenge and will remain a focal point of the church's future ministries.
Church Activities:
<![if !supportEmptyParas]><![endif]>

Worship services
The Sunday worship is conducted in Mandarin Chinese with Cantonese, and occasional English translation. The site of worship is the Education building of the Immanuel Baptist Church, at 2432 High Point Road, Greensboro. Our worship is a time in which we praise and glorify God in truth and spirit. The worship service includes Bible reading, prayer, singspiration, sacred music, and sermon. Announcements and tithing are also made during the worship. Children worship is conducted concurrently and separately. Our worship service is open to all.
<![if !supportEmptyParas]><![endif]>

Sunday school

<![if !vml]><![endif]>

The aim of our Sunday school is teaching the participants Bible knowledge, Biblical principles, and doctrines in a

classroom setting.

Classes are generally one hour in length and are held prior to the Sunday worship for adults and children.

<![if !supportEmptyParas]><![endif]>


Bible Study

Friday nights are reserved for Bible study. The subject of study varies from group to group, depending on the needs. The Bible study groups are: Seekers group in Mandarin and in English, College Bible study, Cantonese Bible study, Basic Doctrine class and Advanced Bible study.

<![if !supportEmptyParas]><![endif]>

Fellowships
<![if !vml]><![endif]>The Song of Songs Mandarin fellowship, Grace Mandarin fellowship, Living Water Mandarin fellowship, Cana Mandarin fellowship, LingLiang Mandarin fellowship, Elim Cantonese fellowship and Jireh Cantonese fellowship held monthly with the purpose of cultivating understanding, care, and support for each other. Activities include Bible study, sharing, discussions, and seminar. Special outings and retreats are also occasionally arranged. Communication and interaction are always encouraged. Depending on the nature of the activity, an appropriate location is selected. Most fellowship meetings are held at a member's house or the church. Student fellowship is more dynamic in nature. Its arrangement is nevertheless similar to that of the rest of the fellowships.
<![if !supportEmptyParas]><![endif]>
Prayer meeting
This meeting provides time for the sharing of prayer request, singspiration, and prayer. It is approximately one and a half hour in length and is generally held on Wednesdays at the church. It is where, through our prayers to God, many might works of God begins.
<![if !supportEmptyParas]><![endif]>
<![if !supportEmptyParas]><![endif]>
Outreach ministry
Small group gatherings are held for seekers and young Christians on a periodic basis. For the non-Christians seekers,

the focus is evangelistic and topics that would be of interest to the seekers are covered. For young Christians, the primary goal is to reaffirm and build up their Christian faith through studying the basic Christian doctrines. These meetings are planned and arranged on an as-needed basis. Activities may include Bible studies and topical discussions.

<![if !supportEmptyParas]><![endif]>

Other meetings

Fall newcomer/new student picnic, Revival meetings, Missions conference, Easter celebration, Thanksgiving special meeting and Christmas program are all part of our annual events.

<![if !supportEmptyParas]><![endif]><![if !vml]><![endif]><![if !supportEmptyParas]><![endif]><![if !supportEmptyParas]><![endif]><![if !supportEmptyParas]><![endif]><![if !vml]><![endif]><![if !supportEmptyParas]><![endif]><![if !supportEmptyParas]><![endif]><![if !supportEmptyParas]><![endif]>

<![if !supportEmptyParas]><![endif]>